Precious Metals Spot Prices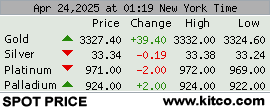 Click your browser's refresh button for latest quotes
Settlement Options
- Gold -

Precious Metal Assayers pay 96% of the fine gold contained (based on the current market price, on the day your order is finalized). Turn around time is usually 3 - 5 business days. Learn about our gold refining process.

- Gold Filled -


Precious Metal Assayers pay 90% of the fine gold contained (based on the current market price, on the day your order is finalized). Turn around time is usually 3 - 12 business days.

No Additional Charges or Fees

- Silver -

Precious Metal Assayers pay 90% of fine silver contained (0.925), 92% of the fine hallmarked .999 fine silver contained (examples are 0.999 bars and rounds), 85% of the fine silver contained in silver electrical contacts**, 90% of the fine silver contained in photographic flake and 90% of the fine coin silver (minted prior to 1965), based on the current market price on the day your order is finalized*. Turn around time is 3 - 12 business days. All other industrial silver groups that is less than 80% fine silver contained we pay 85%. Learn about our silver refining process.

No Additional Charges or Fees

- Platinum -

We pay 90% of the fine platinum contained based on the current market price on the day your order is finalized. Turn around time is 3 - 12 business days. Learn about our platinum refining process.

No Additional Charges or Fees

- Palladium and Rhodium -

We pay 80% of the fine rhodium and 85% of the fine Palladium contained (based on the current market price determined on the date of completion of order) Turn around time is 3 - 12 business days.

No Additional Charges or Fees


Must have 3 ounces or more of karat gold to receive a 96% payout. Less than 3 ounces will receive a 94% payout.

**Must have 12 pounds or more of sterling silver to receive a 90% payout. Less than 12 pounds will receive an 85% payout.

* Due to the current higher precious metal prices our turnaround time could take longer than normal.

***Turn around time is 4-5 weeks for any material containing cadmium and tungsten.

$1.10 per incoming ounce or $400.00 minimum charge to remove cadmium and tungsten. Also minimum amount to ship is 15 pounds.
Did you know?
Platinum is the rarest of all precious metals. Approximately 10 tons of raw ore has to be mined to produce one fine ounce of platinum. Most of the world's platinum comes from the former Soviet Republics, South Africa, and Canada. All the platinum ever mined would fill a cube less than 25 feet on each side!
Northern Refineries
Platinum Refineries
Property Search
Precious Metal Buyers
Precious Metal Recovery
AML Compliance Form
High Plains Prospectors

We BUY, REFINE, RECYCLE and ASSAY all precious and scrap metals, including gold, silver, industrial platinum, palladium and rhodium. We are a one-stop refinery that serves professional jewelers and the general public. Precious Metal Assayers offers the top dollar for your precious scrap metal, gold, platinum and silver.

Most refineries, smelters and assayers of scrap metals charge refining fees but Precious Metal Assayers has no fees ever period. With a variety of settlement options, no refining fees or charges, and fast turnaround time, our services go unrivaled. No one recovers more precious metal than we do.

We put the customer first and strive for 100% satisfaction in our services. Let us add you to our list of satisfied customers. Once you use our modern state of the art refinery, you will be one of our many satisfied, return customers. We pay the first $20 in shipping costs with settlements of $6,000 or more (click here for your coupon). If your settlement is over $8,000 you can choose between a free one-ounce silver coin or free shipping. Remember to include your coupon.

Remember to bookmark our site to view current spot prices for gold, silver, platinum, and palladium. We look forward to your business!
| | |
| --- | --- |
| | 0.925 sterling silver |
| | Almost anything containing gold, silver, and platinum! |
| | Antique rings, pendants, bracelets, earrings, class rings, etc. |
| | Bench filings, bench sweeps, buffing and polishing dust |
| | Casting Grain |
| | Crucibles (gold, silver, platinum) |
| | Dental gold (teeth, fillings, crowns, bridges, dentures, alloy) |
| | Gold and silver coins |
| | Gold and silver flake, gold and silver foil |
| | Gold Bullion |
| | Gold nugget |
| | Gold or silver leaf |
| | Gold scrap |
| | Gold/silver watch bands |
| | Industrial platinum |
| | Ingots, bars, coins |

Jewelry settings, mountings, semi-mounts, findings
Karat gold (9kt, 10kt, 12kt, 14kt, 18kt, 22kt, 24kt)
Palladium/rhodium sponge
Photographic silver
Platinum catheter tips
Platinum crucibles
Platinum mesh, foil, flake & sheet
Platinum scrap
Platinum thermocouple wire
Precious metal necklaces, chains, pins
Precious metal scrap
Silver and gold watch bands and bezels
Silver scrap
Silver electrical contacts or any material that contains Cadmium

*

Silverware and serviceware
Sludge
Solder
Wire

* Turn around time is 4-5 weeks for any material containing Cadmium.

Northern Refineries is not liable for any gemstones left in mixed scrap jewelry. If valuable, please remove them prior to shipping.


How and where to
send your materials

Precious Metal Assayers is a division of Northern Refineries.
Please send your materials insured via UPS, FedEx, or USPS to:

Northern Refineries
29509 Sierra Point Circle
Farmington Hills, MI 48331
USA


ABSOLUTELY NO WALK-INS, BY APPOINTMENT ONLY

Special Instructions: Upon shipping material I warrant to NORTHERN REFINERIES LLC that any material offered for refining and sale is submitted with clear legal title.

Important: Include your name, address, phone number, e-mail address (if available), and a copy of your driver's license or state ID number with the package. If your settlement is over $8,000 you can choose between a free one-ounce silver coin or free shipping. Remember to include your coupon.

See Also: Shipping Precious Metals Dos and Don'ts

Contact us for any and all of your refining needs.

Call toll free:
(800)-882-7729
Telephone:
(248) 231-2800
Fax:
(248) 788-0430

To learn about Northern Refineries' refining process click here.
Tag
Cloud
Scrap Gold Buyers, Scrap Gold Assayers,Scrap Gold Smelters, Scrap Gold Refiners, Scrap Silver Buyers, Scrap Silver Assayers, Scrap Platinum Smelters, Scrap Silver Refiners, Scrap Silver Smelters, Scrap Platinum Refiners, Scrap Platinum Buyers, Scrap Platinum Assayers, Scrap Platinum, Gold Assayers, Platinum Buyers, Gold Buyers, Gold Refiners, Dental Gold, Gold Teeth Prices, Industrial Silver Recyclers, Metal Assayers, Platinum Refineries, Precious Metal Assayers,Platinum Refineries, Precious Metal Refineries, Scrap Gold Buyers, Silver Refineries
How to host a successful gold party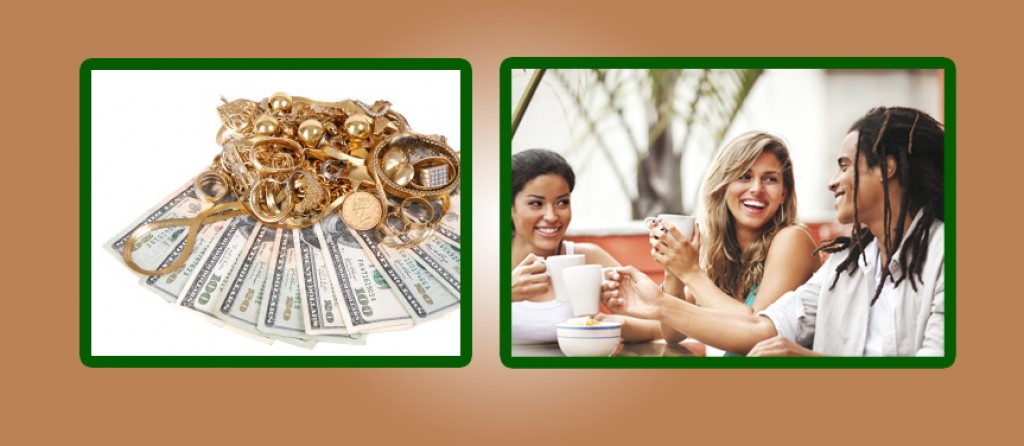 With the growth of India's middle class, demand for gold jewelry is already growing in the fourth quarter of 2014. Combined with China slowing down gold mining, prices for gold continue to climb upward. Every new smartphone and high-tech device produced also drives prices higher. The World Gold Council predicts gold prices to reach $2,500 per ounce by the end of 2015.
Modeled after the Tupperware parties of the 1980s, gold parties sprouted across the country once gold started to climb past $1,000 per ounce. After the recession of 2008, gold parties have become even more popular as more people are trying to find ways to augment their income. Below I offer you step-by-step guide on how to host a fun and profitable party.
Important!Make sure gold party is legal in your state. In some states (California, Georgia, and Virginia), gold parties are not allowed and some states require a permit. Read More
Silver parties can bring in some cash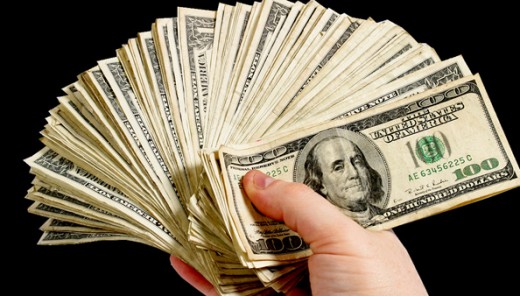 It is calculated that humans excavated more than 800,000 tons of silver. According to Kitco, in the past twenty years prices for silver went from around $5 per ounce to over $20; reaching the all-time high of $40 earlier in 2014. If current trends of silver consumption for jewelry and industrial needs continue investment in silver will become very profitable.
Silver is used in creation of computer keywords, elevator buttons, and microwave control panels, iPad, iPhone, Android and other devices. Silver chloride can be found in batteries, and coatings for solar panels. Thin layer of silver on the glass, created mirrors and later helped create microscopes and telescopes. Every day, scientists continue to find new applications for silver. However, supplies of silver on Earth is limited and as demand continues its growth, popularity of silver parties where friends bring together their unwanted silver and get cash at the end of party will grow as well. Read More
Recycling Electrical Contacts Scrap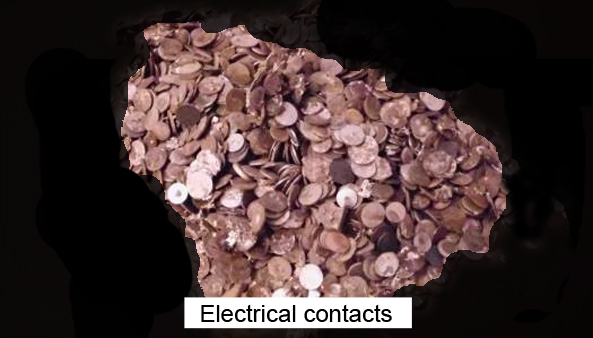 In order to ensure proper working conditions of electrical contacts they need to be replaced regularly as both electrical and mechanical wear occurs. Each device how has its own manufacturer-recommended maintenance schedule. Instead of disposing of worn-out electrical contact – collect and recycle them!
In order to recycle scrap electrical contacts you need to remove them first. Look for button-looking, shiny, circular object like the one in the picture below. Using a pair of vise grips heat the back of the contact until the silver solder melts and drop the silver contact into a bucket of water. Collect a minimum of 15 lbs. before sending it to the refinery. Read More